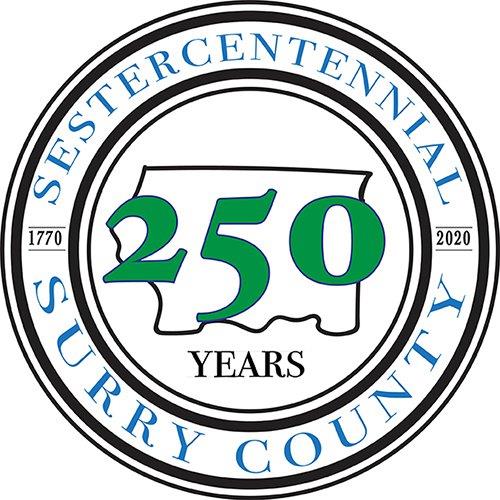 Surry 250th Live Broadcast
WPAQ is proud to be a part of this event!
SURRY COUNTY HOLDS 250TH ANNIVERSARY KICKOFF CELEBRATION
Event is Called Surry 250, Presented by Hugh Chatham Memorial Hospital
The County of Surry will hold a kickoff celebration in recognition of the County's 250th Anniversary on Saturday, August 21 at the Historic Courthouse Square, 114 W. Atkins St. in Dobson. The opening ceremony will be at 10 a.m., with entertainment and activities continuing throughout the day, closing at 6 p.m. The event is called Surry 250, is free and will be presented by Hugh Chatham Memorial Hospital.
Citizens will enjoy Surry County sonkers, numerous food trucks, children's activities, displays by local historical organizations, Revolutionary War demonstrations and great music from headliners Presley Barker and Taylon Hope, as well as the Nunn Brothers, the Slate Mountain Ramblers and Celtic Sessions.
Barker is a 16-year-old local prodigy, who competed on American Idol and has appeared at the Grand Ole Opry, MerleFest, Elkin Roots Music Festival, the Reeves Theater and the Galax, Va. Old Fiddlers Convention, where he won the adult guitar competition when he was 10. He is currently recording an album in Nashville and has performed at many music venues in NC and Virginia.
Hope is another highly successful 16-year-old with a great amount of experience in Nashville, having shared the stage with Dolly Parton, Tracy Lawrence, Lee Greenwood, Lonestar, Shenandoah and Colin Raye. She moved to Nashville from West Jefferson, NC to pursue her career in country music as a pre-teen and is a signed artist for Dolly Parton's Dream More Resort, where she performs throughout the year. Hope has performed at the Grand Ole Opry, on historic WSM Radio, at CMA Music Fest, at MerleFest and at many music venues in NC and Tennessee.
The Nunn Brothers and the Slate Mountain Ramblers have won numerous awards and performed in many festivals and events in NC and Virginia. Both bands have a great following in the area.
Children can enjoy the Dobson Splash Pad, a monster mural, a playground, cornhole boards and Horne Creek Living Historical Farm old-timey games. Historical displays and demonstrations will be provided by Horne Creek, the Wake Forest University Anthropology Department, heritage craftsmen and the Mount Airy Museum of Regional History, who will present a walk-through mobile museum that traces Surry County's history from the Native Americans to today. Surry County historical videos and silent films will be played in the Historic Courthouse Board Room on the second floor and a time capsule will be on hand for citizens to add their contents to be re-opened in 2121.
Those who attend should bring a blanket or lawn chair to relax on the Historic Courthouse lawn, where concerts and social events were held for decades. Bands will be available for pictures, autographs and album and merchandise sales.
Atkins and Crutchfield streets will be blocked off for the event; parking will be available at Dobson Elementary School, Dobson First Baptist Church, the Surry County Judicial Center and Surry Community College, where guests can hop on a shuttle for a free ride to downtown.
A lecture series, bus tours, mobile museum school trips and historical articles in regional media outlets will follow over the next year to honor the County's history, which includes a time period that current land in Forsyth, Stokes and Yadkin counties were part of Surry County. Dates, times and details for those events will be announced in subsequent media releases.
For more information about Surry 250, log onto http://facebook.com/surry250 and www.surry250.com.
The Surry 250 event's rain date is Saturday, August 28.