WPAQ RADIO STATION – REGIONAL COVERAGE FROM MOUNT AIRY, N.C.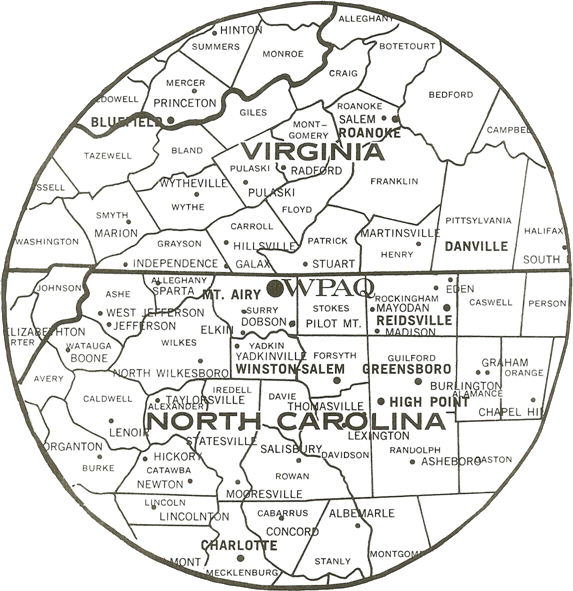 10,000 Watts of AM Coverage – Listening tests indicate a receivable signal throughout area shown. Reports from many parts of North Carolina and Virginia, as well as from West Virginia and Ten­nessee, confirm the vast coverage of the WPAQ Clear Channel Signal. Station operates with one thousand Watts for approximately 1 ½ hours after sunrise and before sunset. (FM station operates 24 hours per day)
Listen Online
Click here to tune in from anywhere in the world!
No Static At All: WSYD, WPAQ Add FM Frequencies!
(Mount Airy, NC) For more than 70 years, broadcast radio in Surry County meant listening to the AM band only.
No more.
On Friday August 7th, both WPAQ and WSYD launched their new FM frequencies. WPAQ can be found on the radio dial at 106.7. WSYD resides at 105.1. The FM signals are both broadcast in stereo with a fuller, broader range of sound. Both stations will continue to also be heard on AM, WSYD at 1300 and WPAQ at 740. Both can be heard worldwide online.
The music formats at WSYD and WPAQ will remain fundamentally the same. WSYD will continue its successful mix of Pop Oldies from the 50s to the 80s, as well as Beach Music. WPAQ will still offer listeners traditional Bluegrass and Old-Time String Music, plus Gospel Music and their evening easy-listening program, the Sundown Serenade.
Owner and General Manager Kelly Epperson says that WPAQ and WSYD have big plans with the addition of FM.
"We're planning more specialty programs, some of which will be produced by our own announcers, and some syndicated shows that we'll bring in," he stated. "The more variety we can provide our listeners, the better."
Epperson hinted at a 50s Doo-Wop show, a Beatles program and an hour devoted to Elvis, among others.
More community involvement is also in Epperson's plans.
"We're all living in uncertain times," he said. "I think it's more important than ever for us to stay connected. I've always believed that local radio can be a vital link in that connection. We'll work to reach out to government, community and civic leaders to provide our listeners with good information. An informed community is a strong community."
One great advantage of FM for WPAQ is extended broadcast hours. The AM side is limited by regulation to daytime hours only, but the FM can stay on 24 hours a day, providing the Sundown Serenade until 9:00pm Eastern time, then making the segue back to Bluegrass and Old-Time overnight.
"We're advising WPAQ fans to make the switch at sunset," said Epperson. "That way they can enjoy us as late as they like. "
Epperson also spoke about the FM frequencies' reach in the area.
"These are essentially lower-power FM transmitters," he explained. "The FCC set it up that way when they opened up the bands to AM stations. So essentially it's a local and regional signal. However, FM can reach places that AM can't. We think folks who might have had difficulties picking us up before here in Surry County may have better luck with the FM. And the sound quality is excellent."
Not only have listeners responded favorably, Epperson noted, the accomplishment has been a real boost to his team, especially in these challenging times.
"We're all excited about the future of both WSYD and WPAQ. The best is yet to come."
(For additional information on WSYD and WPAQ's expansion to FM, or to arrange an interview with Kelly Epperson, e-mail him at kelly@wpaq740.com.)