On Groundhog Day, 1948, people living around Mount Airy, North Carolina tuned their radios to 740 on the AM dial. After months of anticipation and excitement, they heard the first radio station their area could call its own.
WPAQ was the brainchild of Ralph Epperson, a college graduate in his twenties who had been fascinated by radio since his teens. With help from his father Harry, a farmer from nearby Ararat, Virginia, Epperson built the brick-and-timber headquarters which, nearly seventy years later, remains the home of WPAQ.
Fortunately for his friends and neighbors, Ralph Epperson believed in individualism and he had a mission in mind: to serve his community. In his application to the Federal Communications Commission, the young man pledged to reflect the cultural and musical values of the people in his station's listening area. He said he would present local talent, and he made good on that promise from the start. Unlike many other station owners, however, Epperson largely stuck to his mission over the next six decades. Live music by local musicians is still presented each Saturday on WPAQ's Merry-Go-Round program. Epperson himself hosted another program, the Blue Ridge Spotlight, on Saturday afternoons, on which he presented early recordings from the WPAQ archives and other recordings of area musicians and WPAQ's weekly play lists are peppered with recordings of local musicians. Preachers still hold forth on weekday mornings and nearly all day Sunday. Announcers read the obituaries at least three times a day, and the Pet Patrol helps listeners get back together with wandering critters from blue tick hounds to hogs and heifers. The music lurches from old time and bluegrass to easy listening after the evening news. Ralph Epperson explained his philosophy to reporter Michelle Johnson of WFDD this way as she prepared a story about WPAQ for National Public Radio: "If people are doing the same thing in 25 places up and down the radio dial, why should I be number 26?"
Merry-Go-Round programs, which began in the station's studios, became so crowded that the live show moved to the Pick Theater downtown before withering under the onslaught of rock and roll and commercial country music and retreating to WPAQ's studios a few years later. When the old time and bluegrass music revival began in the late 1960s and early 1970s, the Merry-Go-Round began an upswing which helped lead WPAQ to air more old time music on weekends and return entirely to a bluegrass and old time weekday format in the early 1980s. Ralph Epperson recalls that the crowded 75th birthday party for Tommy Jarrell in 1976 caused him to take stock of the musical culture around him and make an effort to feature it again on his station. In 1998 the Merry-Go-Round returned to the Downtown Cinema Theater, now known as the Historic Earle Theater, operated by the Surry Arts Council.
WPAQ presents a combination of bluegrass, old time and gospel music, plus religious programs not too removed from the original 1948 offerings. Station management shows no sign of changing the lineup. That makes WPAQ a treasure, according to Wayne Martin, head of the Folklife Section of the North Carolina Arts Council. Martin says the station legitimizes local culture and reaffirms its value. People in many other communities, he says, may never hear their own music broadcast, instead receiving the constant message that they should abandon their local forms of expression and emulate whatever is being promoted by mass media. Martin believes WPAQ's listeners are luckier: the station's broadcasts make a positive statement about their indigenous culture and music every day.
Taken from liner notes of Rounder CD 0404, WPAQ: The Voice of the Blue Ridge Mountains. Written by Paul Brown, Former Broadcaster and Journalist for National Public Radio, Washington, D.C. and Former News Director and Operations Manager, WPAQ.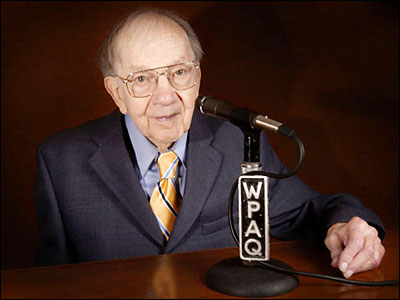 Ralph Epperson was a recipient of numerous awards including induction into the North Carolina Association of Broadcasters Hall of Fame. His work in broadcasting music native to the Blue Ridge Mountains and Foothills of North Carolina and Virginia inspired countless TV and radio documentaries as well as newspaper and magazine articles. He suffered a brain injury after falling in his driveway on May 12, 2006. Ralph Epperson passed away at Wake Forest University Baptist Medical Center in the early hours of May 31, 2006.